Bathrooms are private places where homeowners have an excellent opportunity to indulge their personality and design aesthetic. Santoro Tile & Masonry, LLC, delivers customized plans for tile for bathrooms in Southeast Michigan, so you can love the space where you pamper yourself, bathe the kids, rest and relax, or simply get the job done. From powder rooms to master bathrooms, we promise quality craftsmanship and one-of-a-kind work.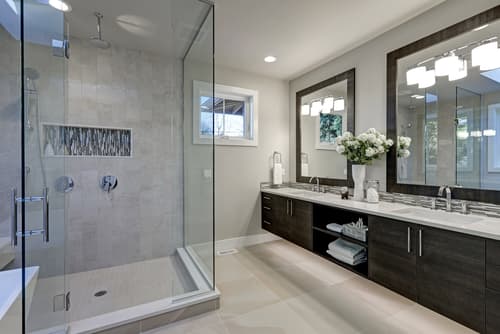 Components of Tile for Bathrooms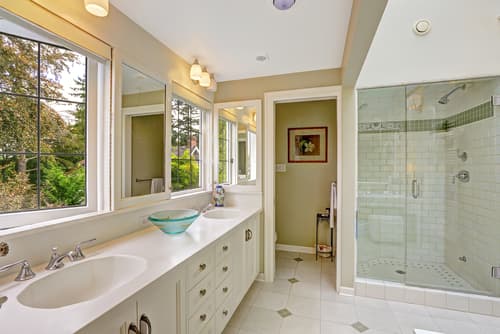 Bathrooms are different than any other room of the house because of the moisture these spaces endure. From steam to humidity, splashes to puddles, the floors, walls, and other surfaces should anticipate moisture at every turn.
Tile for bathrooms should fit the following parameters:
Low porosity
Easy to clean
Stand up to everyday use
As indestructible as possible
Bathrooms don't have to be utilitarian. This room is an important part of your home that gets use every single day. You should love the space you're in, whether you want an unforgettable, elaborate tile installation or minimalist touches that soothe and satisfy. With Santoro Tile & Masonry, you will always get one-of-a-kind quality craftsmanship.
Choose the Right Bathroom Tile
Bathrooms can be tiled from floor to ceiling and wall to wall, but it's important to use the right kind of tile in each area so that it can handle heavy use and last a long time. There are several factors to consider when choosing the right bathroom tile.
Tile for kitchen floors: Your kitchen floor has a major impact on the overall
Functional tiles: Most of the tiles for bathrooms are functional tiles. Your entire shower stall can be tiled, but it needs to withstand moisture over every square inch. Countertops and flooring can be tiled too, but they also need to resist water.
Decorative tiles: Murals, mosaics, borders, and accents on the bathroom walls can be made from decorative tiles. Color, shapes, images, and patterns can be created through decorative tile elements, marking your bathroom as your very own.
Bathroom tile weight: You may have your heart set on a certain type of tile for your shower, but the tiles you can use and where you can use them will be influenced by the weight of the tile. Drywall has limitations as to how much weight can be placed per square foot.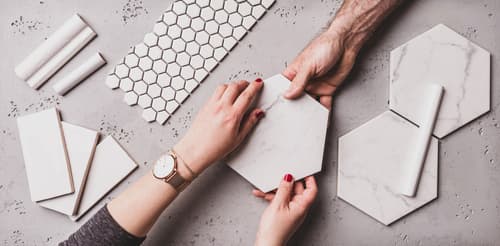 Types of Tile for Bathrooms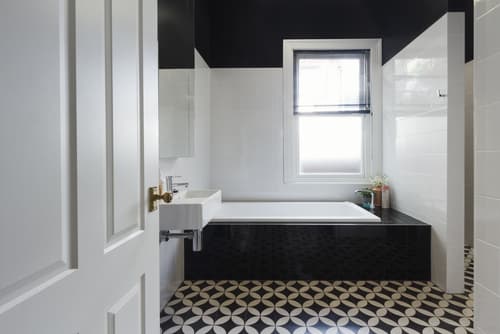 Tile for bathrooms comes in all shapes, sizes, colors, and configurations. To avoid getting drawn into the vacuum of choices, make sure your budget and color scheme are set in stone so you know what you have to work with for size and material of tile. Ideally, you want low-maintenance materials in your bathroom so they do not require any sealing or upkeep beyond regular cleanings.
Some of the most common and recommended tile for bathrooms include the following:
Ceramic: Durable, easy to clean, affordable, moisture resistant.
Porcelain: Moisture- and stain-resistant, slippery, may crack with age.
Stone: Non-porous, absorbs allergens, withstands high humidity, scratch-resistant.
Glass: Elegant, breakable, for low-traffic areas, water- and stain-resistant.
Granite: Hard, natural stone, for high-traffic areas and countertops.
Get Tile for Bathrooms Near Me in Southeast Michigan
Whatever type of tile for bathrooms interests you, it undoubtedly comes in a variety of shapes, sizes, colors, and patterns. There are many decisions to be made when designing a bathroom upgrade or total makeover. Working with an experienced mason ensures that you will make the best choices for your lifestyle and preferences.
There are many elements to consider when designing a new bathroom look. Create your wish list from the start – heated floors, elaborative decorative work, a mix of tile types – and talk to the experts at Santoro Tile & Masonry, LLC in South Lyon, Michigan to find out what will work best with your space. Contact us today to schedule a consultation.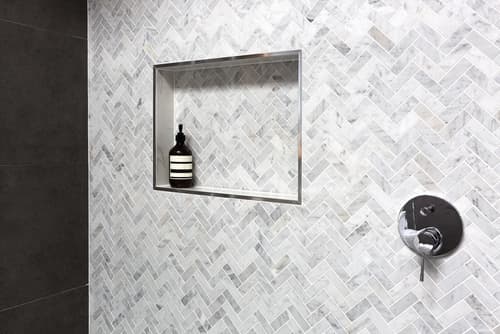 Tile Gallery